What happens the shredded paper?
What happens the shredded paper?
From time to time we get asked questions like 'What happens my shredded paper?' and 'Where does the material go?'
After your confidential paper is collected, it is securely transported to our Destruction Facility here in Raheen. It is then loaded straight onto the conveyor belt and into the Industrial Shredder. We operate a same day shred policy, so whether it's On Site or Off Site, all material is securely destroyed on the day of collection.
Once shredded, it is then baled and shipped for recycling to the paper mills in the UK. Here, it can be turned into anything from kitchen paper, tissues, toilet paper etc. A destruction certificate is then issued along with the invoice.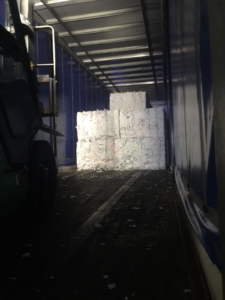 By using our professional shredding services, you are not only eliminating the risk of personal information ending up in the wrong hands, you are also significantly helping the environment.
Recycling 1 ton of paper saves:
17 mature trees,
7000 gallons of water,
3 cubic yards of landfill space,
2 barrels of oil,
4100 kilowatt hours of electricity, enough energy to power the average home for five months.
For more information on all our services please don't hesitate in picking up the phone and speak with a member of our sales team. 1850 491 333